News
Posted on 11/19/20
All board games 25% off, Dungeons and Dragons 3 Core Books 40% off and more
Details at BlackFridayWeekend
Posted on 09/21/20
From Monday, September 21st through Sunday, October 18th, buy 2 games from the following list and get a 3rd one (of equal or lesser value and from the list) from the list FREE!! You read that right! FREE!!! Games available on the sale are Catan, Splendor, Carcassonne, Dixit, Mysterium, Small World, Ticket to Ride, Arkham Horror the Board Game, Pandemic, Rory's Story Cubes (Box), Spot It! Classic, 7 Wonders (New Version), Dead of Winter. Cosmic Encounter. This great promotion will run from Monday, September 21st through Sunday, October 18th! Stock up on those Christmas presents early.
This promotion is available in-store only! This does not include any expansions.
Posted on 08/11/20
Come participate in our Combat Patrol tournament for Warhammer 40k! Bring 1 patrol detachment of models, and test your strategic gaming skills!
PLEASE NOTE: All participants are required to wear a mask and follow safety guidelines
Date of event: Sunday, August 23rd
Time: 10:00 am to 3pm.
Entry fee: $5
Hope to see you there!
Posted on 08/05/20
The Lovecraft Birthday Bash is coming Aug 29-30. This is our biggest sales event of the year to honour the Old Gent himself, HP Lovecraft. First off, this is a storewide sale so everything will be discounted on those days. We'll be announcing more specifics later over the coming weeks.
First sale item we'll mention though is the three main Dungeons & Dragons books, Player's Handbook, Dungeon Masters Guide and the Monster Manual will all be at 30% off!
Come in and help us celebrate! Over the last years we've had cake, but, we're uh...going to be nixing that this year. But we will still have a lot of fun for the 130th Birthday of HP Lovecraft.
Posted on 07/06/20
Exciting news around the corner for Warhammer 40,000! Pre-Orders For the New40k will be up on Saturday July 11th!!! We will have both the Indomitus Box and Grand Tournament 2020 Available for Pre-Order separately.


Miss your chance to get your hands on the limited Catachan Colonel? When you Pre-Order and Pickup your copy of 'Indomitus' and you'll be entered to win one of these hard to find miniatures.
Posted on 06/27/20
Battle with the Behemoths
Choose your Commander and battle your friends with brand-new decks featuring unforgettable characters and giant monsters from Ikoria!
Attack with a swarm of insect beasts, mutate creatures to make unstoppable, or overcome your opponents with a vast human army!
Everthing you need to play Commander in Ikoria is right here.
Posted on 06/16/20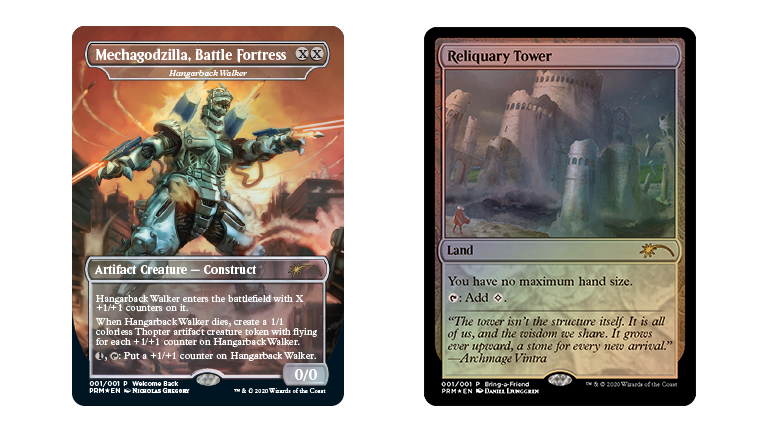 One's a Buy-a-Box and the other is for purchasing Magic product. Stop on by, very limited supply!
Posted on 06/15/20
With the current situation we are once again offering At Home Prerelease Kits for the next expansion of Magic: The Gathering
The At Home Prerelease Kit consists of:
1 Core Set 2021 Prerelease Kit(6 Boosters, 1 Spindown Die)
+ 2 Booster Packs of Core Set 2021 A DCI Number is required for each kit ordered
Posted on 05/29/20
We're still making some tweeks, but we hope you'll be able to find items a bit easier and can take advantage of some of the deals we're always running :)